I'd like to introduce you to "Spacely", my latest mobile design. My original plan was to name it "Proteus", a sea-god from Greek mythology (and a cool submarine in the movie Fantastic Voyage), but when I hung it up for the first time after everything was painted I thought it looked like something out of The Jetsons and "Spacely" immediately popped into my mind. I'll reserve "Proteus" for something later on.
It's fun to name a mobile. Most of the time, I let the mobile name itself. As in this case, it usually comes to me as I am making it. Each mobile seems to have its own personality and it's usually pretty easy to find a name that conjures up the feeling that I get from it. Here are a few good examples: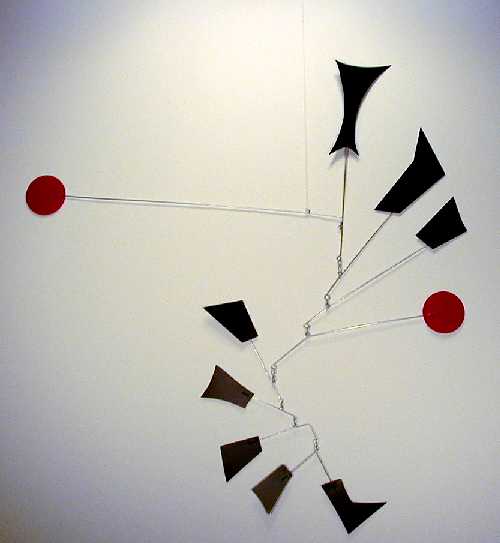 Tokyo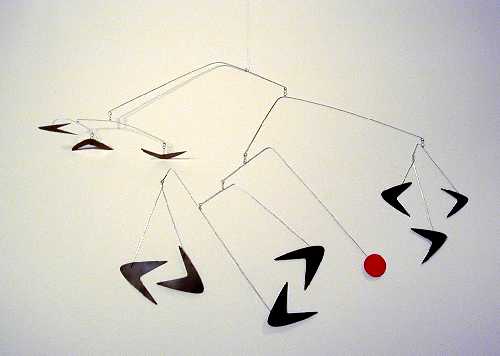 Ten Crows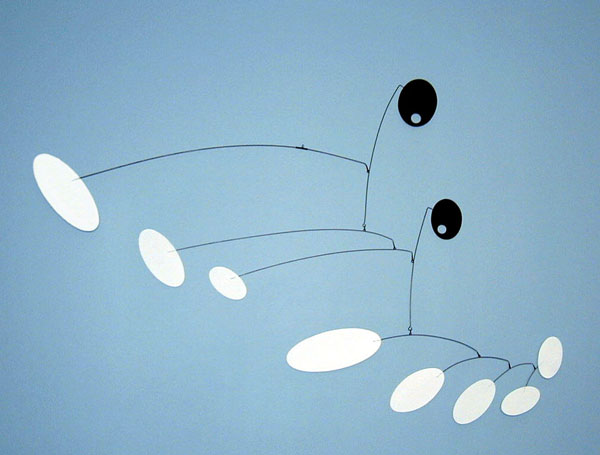 Ghostly
Sometimes the name of the mobile is a reference to something that inspired it, for example the design of my "Wilco" mobile appeared in my mind, fully formed, as I was listening to a Wilco album.
Wilco
Every now and then I will get stumped. I remember one occasion when I finished a mobile and had no name for it, so I asked my daughter Bridget for help. She came up with a great name..."Quibble"!
Alexander Calder titled most of his sculptures, and I've read that he followed the same method of letting the name reveal itself to him. Most of his titles were descriptive, such as; "Big Red", "One White, Four Blacks", "Thirty-two Disks", "Wooden Bottle with Hairs", "Crinkly", and "The Y". Some appear nonsensical with no apparent meaning (to me at least) such as; "Myxomatose", "Teodelapio", and "Obus". Of course, Calder was known for his playful sense of humor and one can find that in some of his titles as well...some of my favorites are; "The Lace on the Edge of Your Panties", "Funghi Neri", "Little Tinkle", and "Bayonets Menacing a Flower".
I supposed my all-time favorite Calder title would have to be "Sword Plant" - a great name and a perfect description for one of his best stabiles.
Most artists give careful thought to the title they chose for a particular piece. The next time you are admiring a work of art, take a few moments and think about the title. You may find that it sheds new light on the piece and makes you think about it in a completely new way.